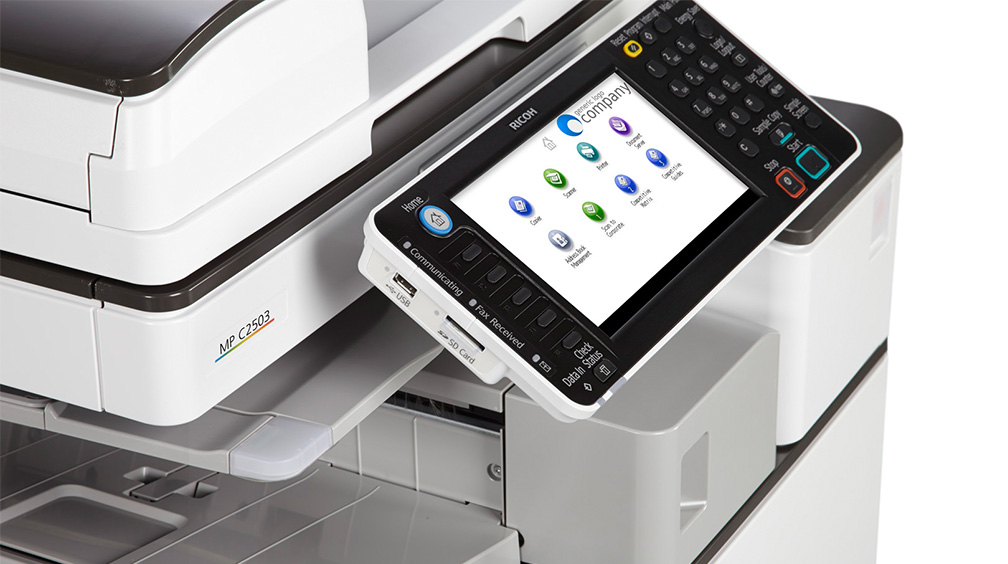 If you are looking for a copier that can provide your various printing needs such as printing promotional flyers and handouts, copying files, and also sharing through the Wi-Fi, then maybe now is the time to upgrade to Ricoh C2503 Color Laser Multifunction Copier.
Ricoh C2503 MP Copier Specifications and Features
The Ricoh C2503 Color Laser MP is best suitable in tiny places and offices that are required to save spaces. One of the best features that Ricoh MP C2503 has is the Smart Position Motors and Intelligent Airflow Engineering, a noise-canceling program that provides noiseless performance.
The Ricoh MP C2503 copier can print documents at a speed of 25 pages per minute and can perform photo scanning on a speed of 54 images per minute. This copier is excellent for firms that print a standard of 4,000 to 10,000 pages per month. This exceptional performance is made possible by the copier's powerful 600 MHz of CPU with 1.5 gigabytes of RAM. The printer itself is very instinctive. The 9-inches control dashboard is devised with customizable features, short-cut symbols, and a USB/SD card slot.
Printing through your mobile phones has been made possible. As the innovation grows continuously, Ricoh Printer manufacturer has also stepped up their game by designing their copiers to print documents and images through the user's smartphone via the Ricoh Smart Device Connector app. Apple smartphones can also use the Apple Airprint app. Aside from that, the copier also empowers you to perform tasks like scanning documents, sharing files, and printing with your mobile phones when you connect on the printer's Integrated Cloud Environment. There's also a USB and SD Card slots if you don't opt to transfer files mobile-wise.
The copier can print documents up to 12″ x 18″ paper sizes and has a standard capacity of printing 1,200 sheets and a maximum of 2,300 paper capacity. The printer also has a 250 gigabyte of hard disk drive that stores local documents of up to 9,000 pages. If you're worried about your data and documents privacy, Ricoh MP C2503 has advanced security that will ensure your data and documents privacy is protected. Stapleless Finisher is one of the cool features of Ricoh MP C2503. It precisely binds copied or printed paper of up to five sheets without using staplers, which is ideal especially to the vicinity where children are present. The copier can also embed hole-punching on your printed documents, and can also sort your documents into print, copy, or fax output.
Ricoh MP C2503 Common Problems
No Display. When there is no display on the control pad, it is either set in Energy Saving Mode or the operation switched is off. For copier repair, you can either turn on the operation switch or disable the Energy Saving Mode.
User Authentication Failed This commonly happened when you input incorrect data, either password or username. Log in again with the correct data.
Images are printed inversely. This type of problem usually occurs when you have placed the paper incorrectly. For the copier repair, load paper correctly.
Paper Misfeed. Happens when the end fences of the trays are not placed correctly, or if the size of the paper that has been loaded cannot be detected by the machine and also if there is an unknown object on the tray. For copier repair instruction, remove the misfed paper and follow the troubleshooting guide written on the printer's manual.
Turn Main Power Switch Off. This occurs when the machine does not shut down properly. For copier repair instruction, turned off the machine, wait for a few seconds before totally shutting it down, then turn it on again.
· Odd Smell. A printer placed in confined places without proper ventilation may release an odd smell, which can produce the odd smell to paper outputs too. With this kind of problem, make sure to ventilate your printer regularly.
Ricoh MP C2503 Diagnosis and Maintenance
Here is the diagnosis and maintenance that you can follow when your printer encounters some technical problems.
Do's and Don'ts
Small metal objects, medicine, vases, pots, and other vessels containing liquids must not be placed near or above the printer.
Do not use combustible sprays or solvents in the vicinity of this machine. To avoid fire and electric shock, avoid placing these items in the same room with this machine.
Do not obstruct the machine's vent to avoid overheating.
Do not switch off the power while the copier is running.
Do not expose the top case of the machine when it is in operation.
Do not move nor tilt the copier when it's in operation.
The copier might get warm while in operation due to exhaust air, this is normal and not a malfunction.
Continuous use of the scanner causes the exposure glass to become warm. This is not a malfunction.
Make sure that the memory space of your printer is at 100% before turning it off or unplugging it.
Steam may come out from the vents of the machine while printing due to high humidity and temperature. This is not a malfunction.
You can utilize an anti-humidity heater to control the proper humidity of the machine.
How to Clean Ricoh MP C2503
When cleaning your machine, be sure to take note of the following to avoid machine breaking.
Do not forget to disconnect the power chord from the power source to avoid electrocution.
The machine interior must be cleaned from dust regularly. Too much dust causes the machine vulnerable to fire and breakdown.
Do not apply chemical cleaners and solvents such as benzene and thinner.
Do not clean the parts of the machine that are assigned to be cleaned by the experts only.
Cleaning the Copier Machine.
Use a dry and soft cloth to wipe the surfaces of the machine.
If the dirt won't come off, wipe it with a dump and wrung cloth.
If the dump cloth can't still remove the dirt, try using a mild detergent or alcohol. Make sure to wipe it off with a dry cloth after.
Cleaning the Exposure and Scanning Glass.
Do not seal the automatic document feeder (ADF) while hard objects are placed on the scanning glass. Doing so may damage the printer.
Wipe the sheet gently when cleaning the exposure glass cover.
When cleaning the ADF, wipe the sheet, and guide the plate gently.
Checking the Power Chord Plug.
Check the power chord connection at least once a year to inspect for the following:
Burn marks on the plugs.
Deformed plugs.
Exposed or broken wires.
A visible dent or crack on power cords.
Parts of the power cord heats up.
Damaged power cords.
If you see any from the above, do not use the power cord and call your service representative immediately.
Should you buy your own Ricoh MP C2503 or just opt for a copier for lease?
For big companies that have large printing demands, laser printers like Ricoh Laser Color Multifunctional C2503 make the best choice for copier rental.
Why should you consider a copier for lease?
You don't need to spend too much to fund your purchase.
Copier rentals companies cover the maintenance of their printers.
Aside from maintenance, some copier rentals also include supplies, onsite support, usage tracking, and more.
Copiers for lease are less troublesome to manage than owning your very own machine.AS
If you are looking for a copier in Nashville, you can contact Nashville (615) 219-5855. You can ask about copier lease in Nashville, copier rental in Nashville, and even copier repair in Nashville.